Meet Dr. Rob Richardson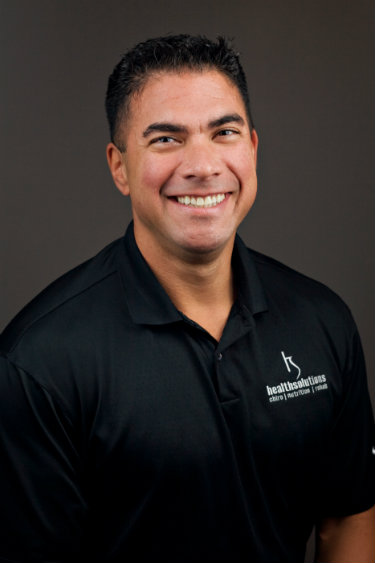 Dr. Rob's introduction to chiropractic occurred after he served in the military and became a veteran. He started as foreman on an asphalt crew when he injured his lower back. He was referred to a chiropractor in Colorado Springs who changed Dr. Rob's life. One weekend he saw his Doctor out and asked him, "How do you do what you do?" He said , "You've got to go to school."
That exchange occurred on a Saturday, and the following Monday Dr. Rob got the ball rolling by applying to school. He earned his undergraduate degree from the University of Colorado at Colorado Springs, and then obtained his Doctor of Chiropractic from Palmer College of Chiropractic.
Dr. Rob loves caring for patients from all backgrounds and uses the Gonstead System. "I like it because its protocol has to match up with five parameters before I adjust."
A Smackdown Success, Brother!
As Dr. Rob's practice is in a facility that's associated with a Gold's Gym, he naturally encounters athletes of all ages. An interesting exchange took place in 2002 when Health Solutions was being finalized. Some of the WWE wrestlers were working out there before their show that evening. Dr. Rob was able to help assist one of the wrestlers with an elbow problem. "I said, 'If you guys need me tonight give me a call.'"
Though he didn't have his license in hand yet, Dr. Rob was undeterred. He called the Professional Board of Regulations in Springfield to inquire about when he'd receive it. They told him he'd have it that day and he was legal to go. About two hours later Dr. Rob got a call from the WWE asking if he could go down to the civic center that night to work on the guys. "The first person who met me in the hallway to get adjusted was Hulk Hogan." Dr. Rob still has that picture with Hogan and his signature hanging in his office as a reminder of that day.
A Passion for Helping Kids and Expecting Moms
Dr. Rob is passionate about helping kids because of their enormous potential. He adjusts athletes of all ages from grade schoolers to college students. Dr. Rob understands the importance of reaching out to the ages of 7-14, more of the developmental stages. Working with kids at this age group Dr. Rob has seen the biggest impact, the kids can recover faster, then stabilize before advancing into their athletic journey. Dr. Rob has worked on Olympic athletes, professional athletes to collegiate and the weekend warrior. Dr. Rob is the official chiropractor for the Eureka College Red Devils. He also cares for pregnant women in every trimester. Dr. Rob states that chiropractic has shown in his treatments to have a positive influence on the birthing process. He has also helped those with infertility issues become pregnant through adjusting or going further into functional testing that he does in the clinic. He's proficient in the Webster Technique and provides gentle chiropractic care for newborns , especially those who experience trauma due to the birth process.
Powering Up Morton
As a former competitive powerlifter, strongman and bodybuilder Dr. Rob has traveled the country competing in the sports he loves. Dr. Rob challenged himself by doing a Strongman competition, four bodybuilding shows and two powerlifting events in three months. Dr. Rob finished first in his strongman, powerlifting competitions while getting a 5th place in Chicago in bodybuilding and in his other three shows he finished strong with first places in his divisions and best poser awards in the final two shows. He was told that a bodybuilder could not be a powerlifter and vice versa aswell as being a strongman, so Dr. Rob did all three in three months.
Dr. Rob's commitment to his love of sports spills over to benefit others. He is now a coach and is the promoter/ hosts with his wife for the Mr. and Mrs. Illinois bodybuilding competition and Muscle on Main strongman competitions. Dr. Rob and his wife also founded a company called ProBody Supplements. Dr. Rob, in collaboration with the labs, designs his own protein powder, supplements and vitamins for all age groups.
A Commitment to Communities
In addition to working with the Morton fire department and police department, Dr. Rob enjoys traveling to other towns in the region to give talks to different high school football teams about nutrition and the importance of taking care of your spine and preventing injuries.
Book an Appointment with Dr. Rob
See why Dr. Rob has patients who travel from as far away as LA to see him for care. Book an appointment today!

Chiropractor Morton | (309) 284-0707